Getting the lead out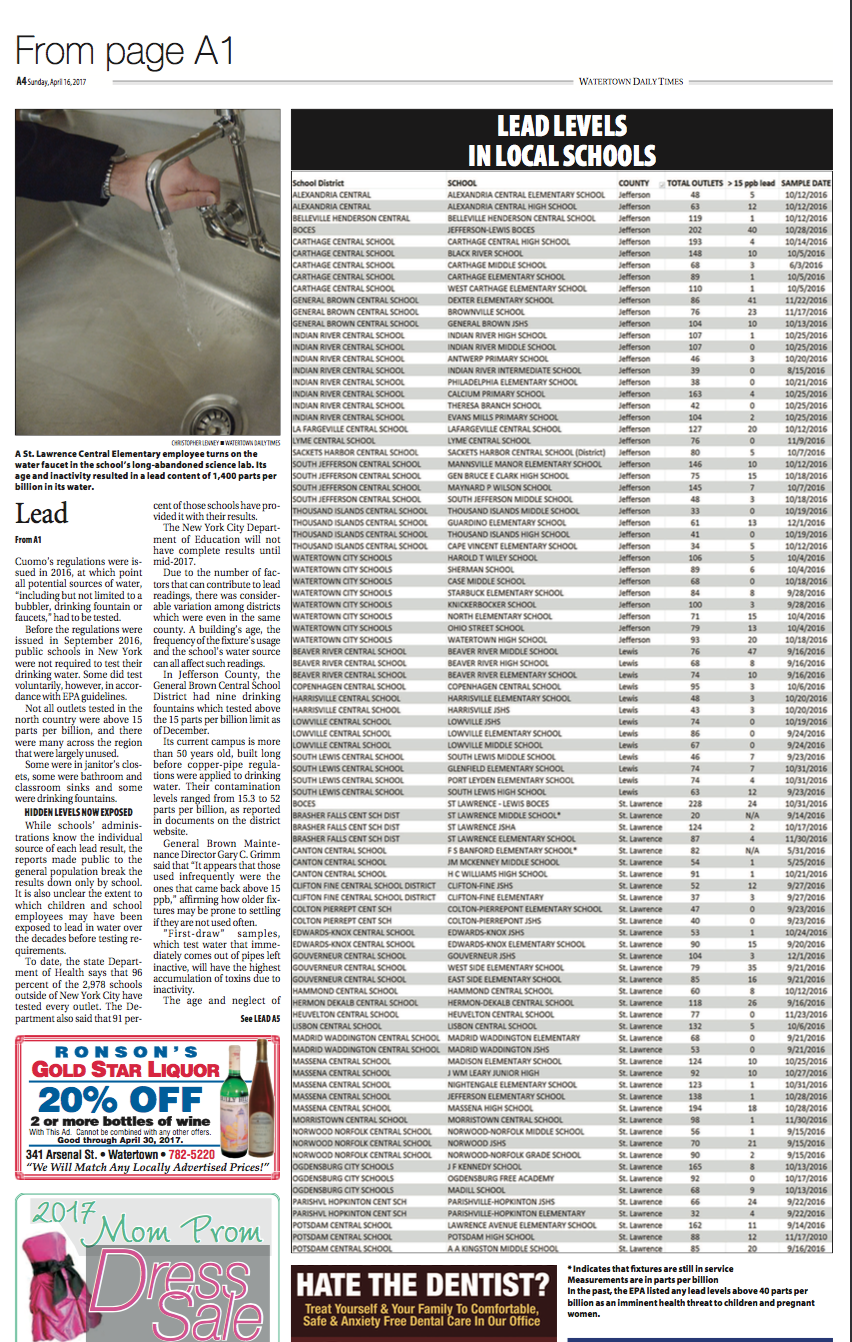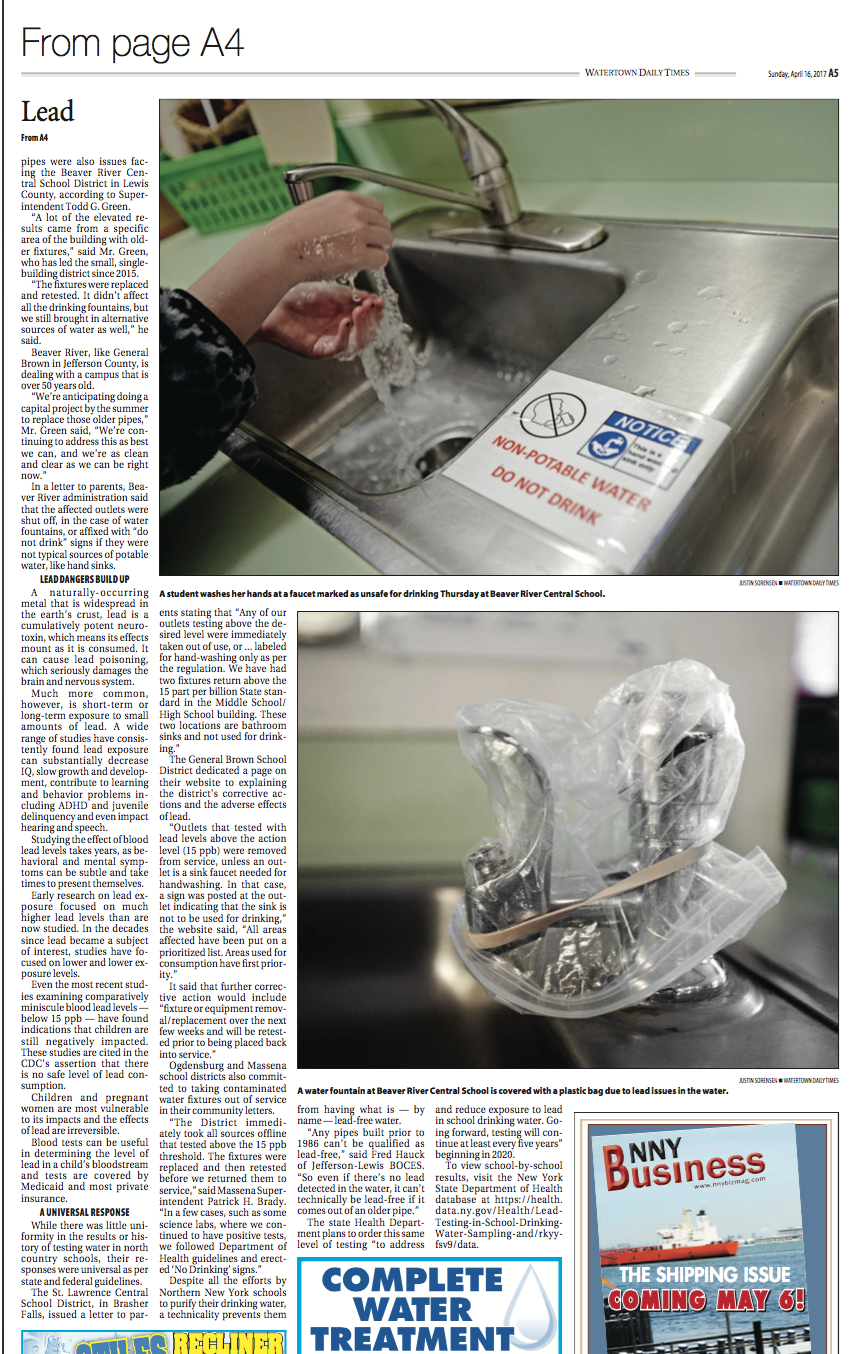 The Environmental Protection Agency has had drinking water contaminant limits on its books since 1986, but incidents like the ongoing drinking water crisis in Flint, Mich., have brought the issue to light in a dramatic way.
The tightening of water-fixture legislation in 2014 brought the acceptable level of lead contamination down from 8 percent to 0.25 percent, or 15 parts per billion, as determined by the EPA.
And last September, Gov. Andrew M. Cuomo issued requirements for all public schools in the state to establish limits for lead levels in drinking water.
He also required schools to develop plans to bring contamination levels below the 15 parts per billion limit and communicate all testing data to the public.
The state Department of Health said the goal of the new testing process is to "identify and eliminate" children's exposure to lead in drinking water at school.
The Centers for Disease Control and Prevention maintains there is no "safe" level of lead to be in children's blood, as even low levels have been shown to irreversibly affect IQ and behavior.
All outlets that could possibly be used for drinking or cooking (lead cannot be removed from water by boiling) were required to be tested and samples ordered to be taken before Oct. 31, 2016.
Fred Hauck, director of health and safety at the Jefferson-Lewis Board of Cooperative Education, praised the rapid response of the districts within the BOCES' network of associated schools.
"We've had tremendous cooperation from the districts, especially given that time frame. I think there were about 20,000 samples analyzed," Mr. Hauck said. "It was an onerous process, but it's worth it. We all want the same thing — we all want our kids to be safe."
A MAJOR PROBLEM
The CDC estimates tens of millions of American children have been adversely affected by lead exposure over the last 20 years.
While lead-related dangers to children are mostly from lead paint in older homes, older water fixtures may also leach lead into the supply. As with lead paint, lead pipes are common in older buildings, so older school buildings were likely to produce higher results.
This was starkly illustrated in one result from an original fixture in the Brasher Falls Elementary School, located in an unused former science lab.
Brasher Falls District Superintendent Robert E. Stewart said that the offending fixture, which tested at 1,400 parts per billion of lead, was in a "room (which) has been a test-taking room for many years, and the sink has not been used. The faucet was an original from 1968."
In the past, the EPA listed any lead levels above 40 parts per billion as an imminent health threat to children and pregnant women.
The fixture was replaced, according to Mr. Stewart.
Locations such as this test-taking room faucet, from which students would not typically drink, were not required to be tested until Gov. Cuomo's regulations were issued in 2016, at which point all potential sources of water, "including but not limited to a bubbler, drinking fountain or faucets," had to be tested.
Before the regulations were issued in September 2016, public schools in New York were not required to test their drinking water. Some did test voluntarily, however, in accordance with EPA guidelines.
Not all outlets tested in the north country were above 15 parts per billion, and there were many across the region that were largely unused.
Some were in janitor's closets, some were bathroom and classroom sinks and some were drinking fountains.
HIDDEN LEVELS NOW EXPOSED
While schools' administrations know the individual source of each lead result, the reports made public to the general population break the results down only by school. It is also unclear the extent to which children and school employees may have been exposed to lead in water over the decades before testing requirements.
To date, the state Department of Health says that 96 percent of the 2,978 schools outside of New York City have tested every outlet. The Department also said that 91 percent of those schools have provided it with their results.
The New York City Department of Education will not have complete results until mid-2017.
Due to the number of factors that can contribute to lead readings, there was considerable variation among districts which were even in the same county. A building's age, the frequency of the fixture's usage and the school's water source can all affect such readings.
In Jefferson County, the General Brown Central School District had nine drinking fountains which tested above the 15 parts per billion limit as of December.
Its current campus is more than 50 years old, built long before copper-pipe regulations were applied to drinking water. Their contamination levels ranged from 15.3 to 52 parts per billion, as reported in documents on the district website.
General Brown Maintenance Director Gary C. Grimm said that "It appears that those used infrequently were the ones that came back above 15 ppb," affirming how older fixtures may be prone to settling if they are not used often.
"First-draw" samples, which test water that immediately comes out of pipes left inactive, will have the highest accumulation of toxins due to inactivity.
The age and neglect of pipes were also issues facing the Beaver River Central School District in Lewis County, according to Superintendent Todd G. Green.
"A lot of the elevated results came from a specific area of the building with older fixtures," said Mr. Green, who has led the small, single-building district since 2015.
"The fixtures were replaced and retested. It didn't affect all the drinking fountains, but we still brought in alternative sources of water as well," he said.
Beaver River, like General Brown in Jefferson County, is dealing with a campus that is over 50 years old.
"We're anticipating doing a capital project by the summer to replace those older pipes," Mr. Green said, "We're continuing to address this as best we can, and we're as clean and clear as we can be right now."
In a letter to parents, Beaver River administration said that the affected outlets were shut off, in the case of water fountains, or affixed with "do not drink" signs if they were not typical sources of potable water, like hand sinks.
LEAD DANGERS BUILD UP
A naturally-occurring metal that is widespread in the earth's crust, lead is a cumulatively potent neurotoxin, which means its effects mount as it is consumed. It can cause lead poisoning, which seriously damages the brain and nervous system.
Much more common, however, is short-term or long-term exposure to small amounts of lead. A wide range of studies have consistently found lead exposure can substantially decrease IQ, slow growth and development, contribute to learning and behavior problems including ADHD and juvenile delinquency and even impact hearing and speech.
Studying the effect of blood lead levels takes years, as behavioral and mental symptoms can be subtle and take times to present themselves.
Early research on lead exposure focused on much higher lead levels than are now studied. In the decades since lead became a subject of interest, studies have focused on lower and lower exposure levels.
Even the most recent studies examining comparatively miniscule blood lead levels — below 15 ppb — have found indications that children are still negatively impacted. These studies are cited in the CDC's assertion that there is no safe level of lead consumption.
Children and pregnant women are most vulnerable to its impacts and the effects of lead are irreversible.
Blood tests can be useful in determining the level of lead in a child's bloodstream and tests are covered by Medicaid and most private insurance.
A UNIVERSAL RESPONSE
While there was little uniformity in the results or history of testing water in north country schools, their responses were universal as per state and federal guidelines.
The St. Lawrence Central School District, in Brasher Falls, issued a letter to parents stating that "Any of our outlets testing above the desired level were immediately taken out of use, or ... labeled for hand-washing only as per the regulation. We have had two fixtures return above the 15 part per billion State standard in the Middle School/High School building. These two locations are bathroom sinks and not used for drinking."
The General Brown School District dedicated a page on their website to explaining the district's corrective actions and the adverse effects of lead.
"Outlets that tested with lead levels above the action level (15 ppb) were removed from service, unless an outlet is a sink faucet needed for handwashing. In that case, a sign was posted at the outlet indicating that the sink is not to be used for drinking," the website said, "All areas affected have been put on a prioritized list. Areas used for consumption have first priority."
It said that further corrective action would include "fixture or equipment removal/replacement over the next few weeks and will be retested prior to being placed back into service."
Ogdensburg and Massena school districts also committed to taking contaminated water fixtures out of service in their community letters.
"The District immediately took all sources offline that tested above the 15 ppb threshold. The fixtures were replaced and then retested before we returned them to service," said Massena Superintendent Patrick H. Brady. "In a few cases, such as some science labs, where we continued to have positive tests, we followed Department of Health guidelines and erected 'No Drinking' signs."
Despite all the efforts by Northern New York schools to purify their drinking water, a technicality prevents them from having what is — by name — lead-free water.
"Any pipes built prior to 1986 can't be qualified as lead-free," said Fred Hauck of Jefferson-Lewis BOCES. "So even if there's no lead detected in the water, it can't technically be lead-free if it comes out of an older pipe."
The state Health Department plans to order this same level of testing "to address and reduce exposure to lead in school drinking water. Going forward, testing will continue at least every five years" beginning in 2020.
To view school-by-school results, visit the New York State Department of Health database at https://health.data.ny.gov/Health/Lead-Testing-in-School-Drinking-Water-Sampling-and/rkyy-fsv9/data.
http://www.watertowndailytimes.com/news03/credo-community-center-opens-medically-assisted-opiate-treatment-clinic-in-watertown-20160922